Local Projects
Partnership Working
Most Greenwood activities are delivered by a number of organisations working in partnership. Different partners are able to bring different skills and expertise to a project, for example technical, financial, wildlife conservation or economic development. Most if not all projects involve local communities in one way or another and projects and may also bring together a mix of private and public sector interests.
The Greenwood team typically takes the role of helping to draw together an appropriate mix of partners, then facilitating effective partnership work through the co-ordination of effort.
Case Study: Gedling Colliery Pit Tip
Gedling Pit Tip is part of the former Gedling Colliery. The site is owned by UK Coal, which has undertaken basic restoration work and landscaping to return the site to a green and partially wooded state. At present however, there is no public access to the site. The Greenwood team has been working with a partnership of organisations to realise an aspiration to create a new country park on the site.
The partnership
The new partnership has brought together organisations with different interests, expertise and resources:
UK Coal is the current landowner, hence securing their agreement in principle was a vital first step for any works to go ahead.
The Land Restoration Trust (LRT) has been established as an independent organisation, which specialises in the restoration of derelict "brownfield" land for publicly accessible greenspace. LRT has been identified as the ideal body to take eventual ownership of the country park site.
The Forestry Commission (FC) has experience of managing a number of woodlands on former coalfield sites within the East Midlands. FC has offered to manage the new country park on behalf of LRT, making good use of their existing staff set up.
East Midlands Development Agency, emda is co-ordinating plans for housing development on land at the foot of the proposed country park. Emda's involvement is vital to ensure that the two schemes work together.
Gedling Borough Council is the local planning authority and represents the local residents who will benefit from the creation of a country park. Recognising such benefits, its councillors have agreed to provide funding to support the park's management.
Nottinghamshire County Council has provided technical expertise for the production of design proposals and will also co-ordinate the implementation work. The authority's Building Better Communities programme has also promised funding to support the park's development.
English Partnerships is the government's national regeneration agency and one of the sponsor organisations behind LRT. The agency is a major sponsor of the proposed country park, having offered funding from its National Coalfields Programme.
Local MPs, Vernon Coaker and Paddy Tipping first approached the Greenwood team in 2002, and have played a significant role in bringing together the partnership and supporting it ever since. They promote the proposed park at regional and national levels and also help to maintain good links with the local communities.
Work to date
The partnership has developed a shared vision for long-term future of the site by first commissioning an options study for its full restoration. The Greenwood team then helped partners to carry out public consultation, which endorsed the preferred option – a scheme which will offer opportunities for leisure and amenity use and create varied landscape and enhanced biodiversity.
The Greenwood team has also been able to secured offers of funding totalling some £2.7M, which would enable the scheme to be delivered on the ground:
| | |
| --- | --- |
| emda (Brownfield Land Action Plan): | £991K |
| Notts County Council (Building Better Communities): | £285K |
| Endowment funding from English Partnerships and Gedling Borough Council, valued at: | £1,497K |
Looking forward
UK Coal, emda and LRT are currently agreeing the terms of a transfer of land ownership in order for the project to move to its implementation stage.
Fundraising
Greenwood's core funding is provided by Nottinghamshire County Council and the five district councils of Ashfield, Broxtowe, Gedling, Mansfield and Newark & Sherwood. The partnership draws on its ability to develop shared projects to seek additional "external" funding to support significant projects.
In recent years, funding sucesses have included:
Rookery Park, Sutton-in-Ashfield. Costs of over £210K for practical works. £97K external grant aid to match additional funding from Nottinghamshire County Waste, and Building Better Communities.
Park Life. £178K funding from Sport England and the Big Lottery Fund for a three-year project to deliver health activities on country parks.
Green Gluing. Over £25K from various sources, to research feasibility of a new wood engineering enterprise.
Gedling Colliery pit tip. £2.7M external funding ready for this project to go ahead.
Further sponsorship has been provided for local tree planting schemes by RSA, Cartridge World, Ikea and EMDA amongst others.
Making a difference on the ground
Case Study: Rookery Park, Sutton-in- Ashfield
Rookery Park is a large area of greenspace being created on land with a legacy of former pit tip and landfill uses. The site is made up of a number of parcels of land, some returned to open grassland and others undergoing restoration. Land ownership is split between Nottinghamshire County Council and Waste Recycling Group.
The Greenwood team has played a key role in helping to bring together efforts of a range of partners to restore and enhance the whole of the site in a co-ordinated way. This has meant that whilst progress has been made at different times for different parts of the site, the different elements will all fit together when the last piece of the site is finally opened for public use.
Local people
Early activity was the completion of local consultation, which helped to shape site plans and also agreed the area's new name of Rookery Park. It also paved the way for the formation of the community group that still keeps an eye on the site: the Friends of Rookery Park.
Essential funding
The team also worked with partners and the local community to secure funding from a range of sources. Key funders have included:
Nottinghamshire County Council – Building Better Communities programme
Waste Recycling Environmental (Wren)– landfill tax credits
Living Spaces programme
Waste Recycling Group
Delivering improvements
With plans and funding in place, 2006 saw the commencement of practical works for phase 1 of the project. Over the next year, new surfaced paths were constructed, hedges and new woodland planted and a new pond created. Benches were also installed to provide places for people to pause and enjoy this diverse and easily accessible greenspace.
Some of the tree and hedge planting was carried out by local volunteers co-ordinated through the Friends of Rookery Park. However, most works, were carried out by contractors engaged by the Greenwood team and supervised by the Groundwork Trust.
Looking forward
We continue to work closely with Waste Recycling Group, to ensure that restoration of the last land-filled area will integrate access links to all other parts of the site. To encourage ongoing community involvement, the Greenwood team also commissioned a local artist to work with three local schools. This led to the development of a site logo and also to proposals for creative benches and entrance features drawing on the natural and industrial heritage of the site plus "land art" features making careful use of land form and path materials.
Long term support
Following consultation with the local community on the development of any new park, likely supporters and enthusiasts become apparent. These community spirited individuals are usually stalwarts of the community and welcome members of a fledgling Friends group. The Greenwood Team supports Friends groups in many ways from helping to form a new group to guiding them through their first Annual General Meeting. Once set up, the Friends of Greenwood Community Forum is an excellent way to network, share knowledge and get great support from those groups that are already established.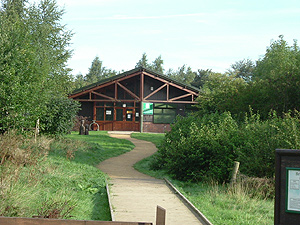 The Brierley Forest Park Trust is one such group, established since the early days of the Community Forest, the group has a range of life long skills and much experience. Evolving from initial consultation, the Friends group is an enthusiastic and dedicated band, who keep the visitor centre running, lead walks, carry out practical tasks and fundraise. The Friends work together like a well-oiled machine and have a good working relationship with the rangers based at the park.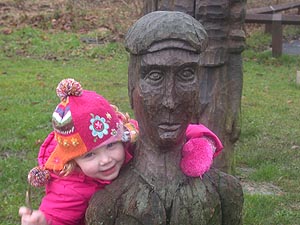 Brierley Forest itself is a flagship site within Greenwood. Bound by the communities of Huthwaite, Stanton Hill and Skegby, the park is a natural focal point for local people for relaxation and recreation. Brierley Forest is an outdoor art gallery and the Brierley Miners statues add to the unique quality of Brierley Forest Park.
Footpaths connect wetland to meadow and over the old spoil heap. Anyone climbing to the top is rewarded with magnificent views overlooking distant landscapes.
Community use
Creating new parks and green space is great for biodiversity by providing a green corridor linking urban areas with the wider countryside and so encourage wildlife into our urban areas. Now that we have these fantastic new parks, we need to promote them to local people and those wanting to explore a little further afield. Using parks for many different activities gives all members of the community a special place to use and enjoy.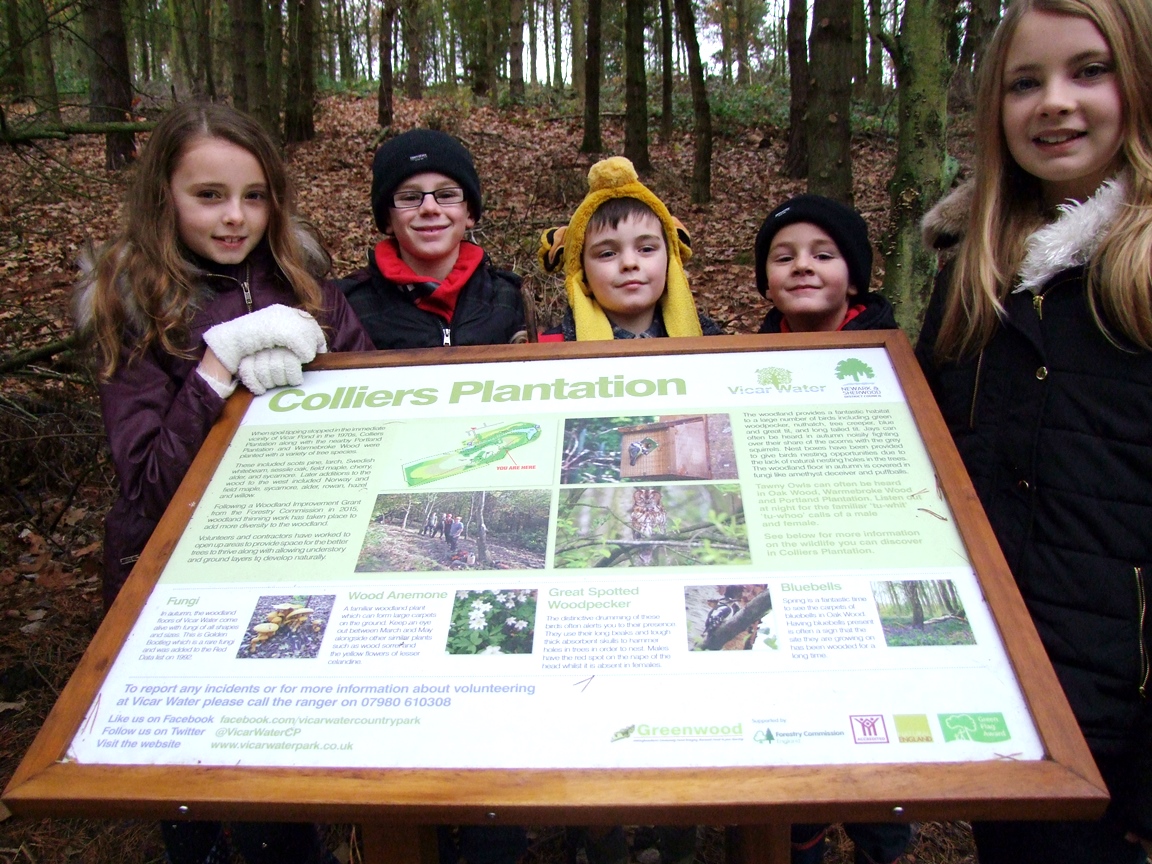 Vicar Water Country Park in Clipstone is a good example of making the best use of a new green space. Vicar Water was developed on reclaimed spoil heaps from Clipstone colliery and opened in 1982. A visitor centre and snack bar was built and opened in 2000. It was initially managed by the Friends of Vicar Water who manned the snack bar depending on the availability of volunteers.
In 2001 Rumbles Catering, a voluntary project for adults with learning difficulties agreed to manage the centre and provide a catering service.
Rumbles catering opened up the park to new users when they agreed to take on the running of the visitor centre. This proved to be successful with an expanding menu and consistent opening times, which were well communicated to the public who began using the park. Funding sought by Greenwood partner Newark & Sherwood district council enabled the project to flourish and provide training facilities and on site office space in a new extension to the building. A full events programme is offered by Rumbles catering and the park rangers as well as local Walking for health groups.
Strategic Projects
Stimulating the woodland economy
Green Gluing
"Green gluing" is a process that takes low grade green timber (ie timber that hasn't yet been kiln dryed) and applies cutting, jointing and gluing technology to produce high quality products.
Timber re-engineering involves two well established processes whereby defects are cut out and then the good sections of timber are joined together to make larger pieces. Finger-jointing bonds short lengths of timber together to produce continuous lengths, whilst laminating glues together two or more lengths of timber to build up a larger cross section.
Whilst these bonding processes are generally undertaken using dry timber, 'green' gluing is undertaken directly after primary processing when the timber has a high moisture content. Timber drying is then carried out after bonding has been undertaken.
How would it help Greenwood?
A local green gluing business could provide benefits to the local environment as well as offering local jobs and supporting existing timber businesses.
We want to encourage more landowners to manage neglected woodlands and to plant additional areas with trees. To do this, we need healthy markets for local timber.
Timber always gains higher prices when it is in longer and larger sections with the minimum of knots and imperfections. Unfortunately, much timber from the East Midlands is of low quality, coming from poorly shaped trees, coppice material and thinnings. Green gluing can re-engineer low quality forest output into higher quality timber, which gains a higher price.
What's happened so far?
Feasibility
The Greenwood Team commissioned BRE Centre for Timber Technology and Construction to investigate the potential for using green gluing technology within Nottinghamshire and Derbyshire.
This concentrated on questions of supply, assessing the available volume and quality of hardwood species, gaining an understanding of the local timber supply chain and assessing the difficulties associated with a lack of outlets for lower quality timber.
It also detailed information about the production process, equipment, facilities, skills, and labour that would be required, as well as assessing the economics of different scales of production.
The study also made direct contact with timber businesses and produced five demonstration products made from locally sourced low quality timber to help promote the concept.
These demonstration products were window frames, flooring, worktops and joinery blanks.
Some of the study's main findings were:
It is technically and commercially feasible to establish a green gluing wood processing facility in the area, operating on a small, medium or large scale.
There is significant interest and potential demand for green glued products.
There is potential profit in the production and sale of these products.
The large scale venture would provide 12 direct jobs and up to a total of 30 jobs within the local economy.
Market analysis
In 2006, we engaged Benchmark Research Ltd to confirm whether there is a viable market for green glued products. This included a consideration of:
The most viable product options
Levels of demand for these products, including volume and required prices
Identification of main customers
Geographical location and spread of market
The report was broadly positive about the potential market for green glued products, with some key findings as follows:
Products likely to have most appeal in the short to medium term are windows, door parts, and stair parts.
There may be longer-term opportunities for flooring.
When dealing with manufactured goods such as windows, stair and doors, demand was higher for ready-machined components of specific sizes.
Whilst there is specific interest among companies located within the East Midlands, there is interest throughout the UK.
What next?
Greenwood's partners are keen to encourage the establishment of a green gluing enterprise in the local area. We want to achieve public as well as private benefits, to support the woodlands and communities of the East Midlands. We are considering either establishing a "social enterprise" or looking for the best way to encourage groups of businesses or organisations to work together.
Further details: contact Malcolm Hackett
Green Infrastructure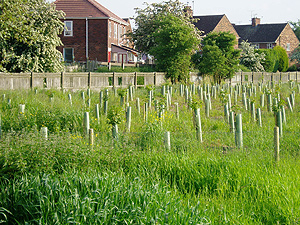 We are used to the idea that buildings in an area can provide for a range of uses and that planners need to allow for a range of facilities when planning new developments.
Green space is just as important to communities and can likewise offer a number of benefits and uses. For example, green space can provide wildlife habitats that contribute towards biodiversity; it can increase an area's visual attractiveness for business investment, or provide space for recreation and tourist attractions. Taken together, our areas of open space can be considered as a vital "green infrastructure".
Greenwood Community Forest Partnership commissioned a green infrastructure study of the local area, linked to others undertaken for the East Midlands Regional Assembly, and also to data relating to Nottingham City's Green Space project. Our study covered some 415km2 and assessed over 36,000 hectares of green space, using a Geographic Information System (GIS) and the most up to date mapping available combined with aerial photographs.
The study had two main stages. First, all mapped areas were categorised to build up a map of the distribution of the different types of greenspace, eg: public parks, woodland, watercourses, grassland and heathland, agricultural land, allotments, cemeteries.
Next, all green spaces were analysed in relation to their potential benefits. This generated a number of thematic maps, such as contribution to biodiversity, benefits to visual image, proximity to tourism attractions. Finally, these maps were combined to provide an indication of how spaces could provide "multifunctionality" – ie the extent to which each area might meet a number of different needs.
Amongst other findings, it is pleasing to note that the study confirmed the value of community forestry. Wooded areas can provide many public benefits including recreation, wildlife and health as well as the economic benefit of producing timber.
We are now working with partners to make use of the study to improve green infrastructure provision and to target attention in the areas of greatest need or opportunity.