Trees for Learning
Trees for Learning is free to primary schools in the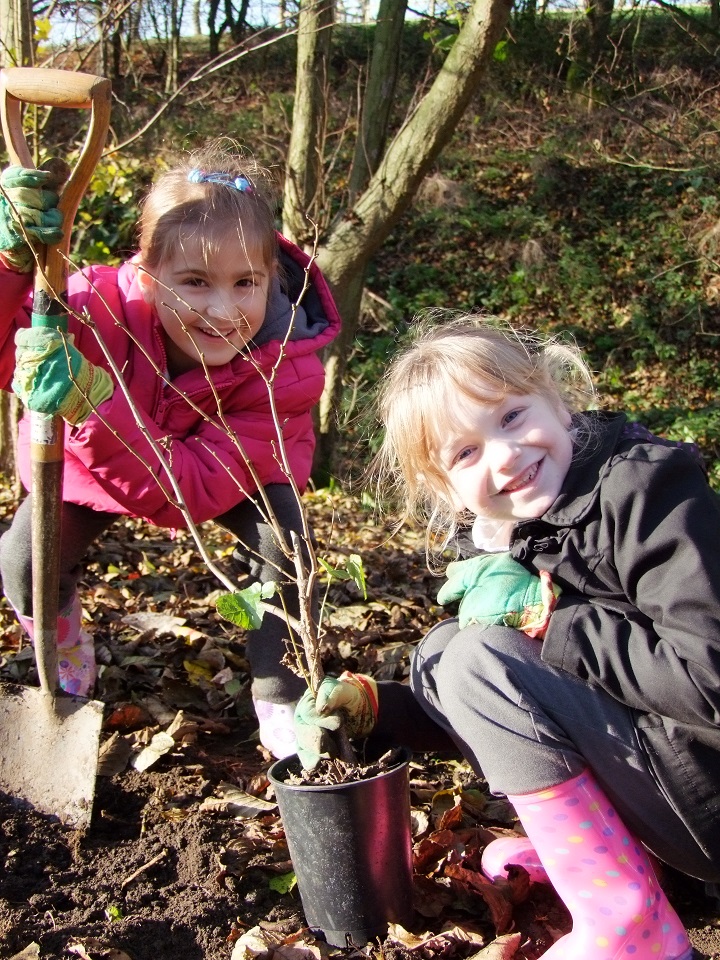 Greenwood Community Forest area - which includes the districts of Mansfield, Ashfield and Newark and Sherwood and the boroughs of Gedling and Broxtowe.
We want to help children to reconnect with nature by helping primary schools to plant trees in their school grounds or other public spaces. We also want to help teachers to use trees for curriculum-based activities.
We can offer the following:
Free site visit
Free advice
Free trees
Free practical support
Free education activity
How can all this be free?
'Trees for Learning' is funded by Defra in partnership with England's Community Forests. It is part of a national initiative for schoolchildren to plant one million trees by 2020.
To arrange a site visit or to find out more, please contact Nic Wort, Greenwood Project Officer at
nic.wort@nottscc.gov.uk
or tel: 0115 993 2601
Greenwood – the outdoor classroom
The distant chatter and laughter of excited 9 year olds – the sound of children being enthused by wide-open spaces, history, legends and imagination.
An outdoor classroom is coming to life in Greenwood with everything that childhood memories are made of – tadpoles, cones and smooth flat stones.
Rangers and educators are on hand to guide/lead school visits and education packs are available for teachers to bring the curriculum to life and inspire inquisitive minds with a thirst for knowledge.
The environment is a place for everyone, including those disadvantaged and disillusioned. Greenwood offers opportunities for everyone, giving equal chances for all to feel a sense of achievement, belonging, and purpose.
Environmental experience
The Greenwood Team brings the environment to life with free creative and inspirational workshops. Working with schools from disadvantaged areas, and the harder to reach sections of society, these free workshops are tailor made to suit.
Using professional artists and specialists, nature is used as a means to get the full potential from every participant. Contact us for further information.
Educational resources
Lesson in a Box
Lesson in a Box was developed from the successful Fun in a Box, but has been developed for teachers to lead visits on specific sites in the Greenwood area. Lesson in a Box also includes equipment for a class of 30 children, in depth health and safety information, curriculum links and background information about the site. The resource is free to use and can be kept for up to a week before and after the visit. Activity sheets and equipment are included in each self-contained resource for pond dipping, exploring a hedge and sensory walks amongst others.
Lesson in a Box is available for:
Contact the team for further details
Park Life
Education Packs
Park Life education packs have been produced to encourage schools and groups to use green spaces within Greenwood to stimulate physical activity and increase health and fitness. The walks, routes and activities are linked to the national curriculum for children from three to 11 years, but are also designed to be used by those involved in organising activities for more informal groups. The seven sites with Park Life education packs, are:
Park Life Fun in a Box
There are seven self-contained Fun in a Box resources available specifically for the seven green spaces within the Park Life project. These include:
New country – using the five senses to explore the countryside
Connecting – environmental games and team building activities
Mini-beast safari – looking at small animals and pond dipping
Hideaway – shelter building
Where now? – orienteering and mapping
Contact the team for further details