Greenwood is Nottinghamshire's Community Forest
The Greenwood Partnership
The Greenwood Partnership Board members 2017/18 are:
Nottinghamshire County Council
Councillor Kevin Rostance (Chair). Contact: 0115 8043185
Ashfield District Council
Councillor David Griffiths. Contact: 01623 468135
Broxtowe Borough Council Councillor Joan Briggs. Contact: 0115 9226686
Gedling Borough Council Councillor Jenny Hollingsworth. Contact: 0115 9617274
Mansfield District Council Councillor Andrew Tristram. Contact: 01623 700060
Newark & Sherwood District Council
The Forestry Commission
Natural England

The Partners have agreed to work together to enable Nottinghamshire's communities to create, improve and enjoy woodlands and other high quality accessible green spaces in a sustainable way that benefits the environment, landscape and the local economy.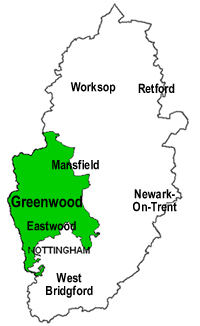 Greenwood covers 161 square miles of Nottinghamshire, from Mansfield in the north to Nottingham in the south and from Eastwood in the west to Farnsfield in the east. It joins historic Sherwood Forest in the north-east and curves round to Attenborough in the south-west.
Over 1.1 million people live within 8km (5 miles) of Greenwood Community Forest.
Greenwood's Achievements
Some statistics to show what the Greenwood Community Forest Partnership has achieved to date:
Over 1300 hectares (3,200 acres) of new woodland has been planted. That's over 3.5 million trees!
Around 900 hectares (2,200 acres) of existing woodland has been brought into management and 300 hectares (7,400 acres) of woodland has been opened for recreation and access.
Over 350 kilometres (210 miles) of hedgerows have been created or restored.
It's not just about trees and woodlands: over 1,200 hectares (3,000 acres) of heaths, limestone grasslands and wetland areas have been created or improved to benefit biodiversity and heritage.
So that everyone can enjoy Greenwood, 950 kilometres (590 miles) of routes have been opened up or improved and more than 8,300 community events have taken place. These have included school visits to use the Community Forest as an outdoor classroom.
Click here to see the latest reports showing how the Greenwood team works with each partner and in each district within Greenwood.
Our Strategy
The Greenwood Partnership has a shared strategy, which is encapsulated within three key statements. The "mission statement" below describes our fundamental aspirations. Our shared values and the ways in which we will work are indicated by an agreed a set of principles.
Finally, we have 10 strategic aims, which summarise the things that we need to do to achieve our vision.
Our mission
To work in partnership to enable Nottinghamshire's communities to create, care for and to use woodlands and other high quality accessible green spaces in a sustainable way that benefits the environment, landscape and the local economy.
Delivery of the strategy
The Greenwood Partnership has agreed a number of priority actions that will be pursued to achieve the aims set out above. You can download a summary table here.
Regional importance
Greenwood is the only Community Forest in the East Midlands region. The value of the Greenwood Partnership has been recognised in regional documents such as the East Midlands Regional Plan (Regional Spatial Strategy), The Regional Assembly's "Regional Environment Strategy" and the Regional Forestry Framework "Space4trees".
The Partnership maintains good working relationships with other county and regional conservation bodies including Sherwood Forest Trust.
Since 2012, Greenwood has played a major role in supporting the Sherwood Forest Landscape Partnership with it's £3.7m bid to the Heritage Lottery Fund. Further details of the miner to Major Landscape Partnership Scheme are here
National context
The Greenwood Community Forest is one of twelve Community Forests established in the early 1990s to demonstrate the contribution of environmental improvement to economic and social regeneration. Together, the twelve Community Forests were able to help to improve the health, well being and quality of life of over half of England's population.
Each Community Forest was established around broad partnerships to pioneer activity and deliver lasting change. Initially, core funding was provided in part by central government via the Countryside Commission, Countryside Agency and Forestry Commission. Such funding finished in 2007 and each Community Forest has become more independent of national funding bodies.
The long-term vision of Community Forests however, remains as relevant as ever. For example, the national vision for England's tree and woodlands over the next 50 years is set out in Defra's Strategy for England's Trees, Woods and Forests. This identifies continuing activity and innovation of the Community Forests as one of the opportunities for action.
A national partnership exists to share best practice between the individual Forests and to demonstrate how they contribute towards national agendas across Government.
England's Community Forests
National facts
Some information about England's Community Forests:
The size of individual Community Forests ranges from around 9,000 to 92,000 ha.
England's Community Forests cover over 470,000 ha – this is equivalent to 3.6% of all land in England or one half the area of all our national parks.
Around 18 million people live within or close to the Community Forests.
Taken together, the Community Forest partnerships draw together around 60 local authorities.
Between them, the Community Forests have planted over 10,000 hectares of new woodland.
All together, the Community Forests have secured an investment of over £175 million to improve people's quality of life.
Download publications relating to the National Community Forest Partnership